Lig(ht-D)ark Walls
Toggle between wallpapers for light and dark mode
---
Description
I made this for myself a year or 2 ago, to toggle between wallpapers when light and dark mode was used. It's included with Widgy now the best widget app on the AppStore 😁
Anyways the shortcut has the following features:
Choose 2 wallpapers for light and dark (Or 1 image for both)
Lock Screen and Home Screen get there own wallpapers.
Overlay images on top of said wallpapers (Shadows for icons, docks etc…)
Use random images from your device as wallpapers.
Updater
Help section showing how to do everything.
It uses sunrise/sunset to know when to toggle light/dark mode. This is updated every 7 days. (You can setup an automation anytime before or after sunrise/sunset)
It went through a redesign a while back to make it more user friendly as it was included in Widgy. So if you look in the Help & Info section you will be showing how to do everything.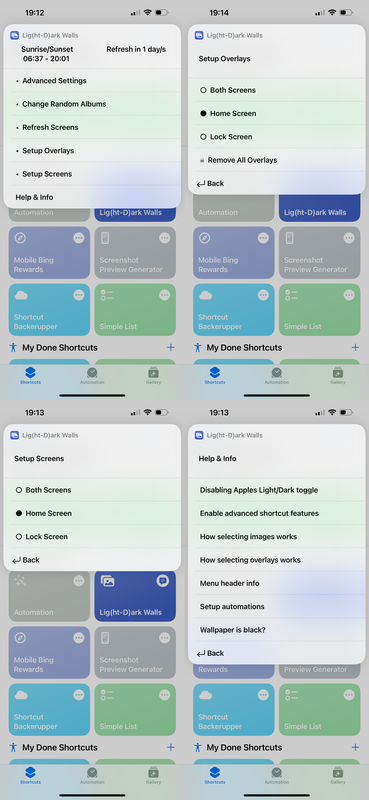 ---
Latest Release Notes
1.3 - Nov. 23, 2023, 7:54 a.m.
Updated the update check to use JavaScript.
(Less functions to do the same job)
Version history
---