Run Shortcut Settings (iOS 12)
iOS 12 Only. Configure the Run Shortcut Notification Center shortcut launcher.
---
Description
iOS 12 Only. Run Shortcuts does not work on iOS 13.
---
Run Shortcut Settings
Run Shortcut Settings lets you access all of your shortcuts from the Notification Center Shortcuts widget. Use your voice to run and edit shortcuts on your device, or trigger shortcuts to run on remote iOS devices using NoteCuts.
Full documentation available in-app or at: https://adamtow.github.io/run-shortcut/English
When running for the first time, you'll configure the following options:
Shortcuts Cache: Makes accessing all of your shortcuts from notification center fast.
Run Mode: Choose between running the shortcut, editing it, adding it to a NoteCut, or displaying a dialog with all three choices.
Launch Action: When launching Run Shortcut, you can dictate the shortcut you want to run immediately, enter it via text, or view all installed shortcuts.
Dictation Language: Got a shortcut whose name is in a different language? Switch between dictation languages so you can always find your shortcuts with your voice.
NoteCuts Integration
Run Shortcut can run shortcuts on your iOS device even when NoteCuts is running in the background, monitoring for triggering events to run shortcuts automatically. Simply use the Run with NoteCuts run mode after selecting a shortcut to run. It will be added to either a local or remote NoteCut for execution at the next NoteCut evaluation period.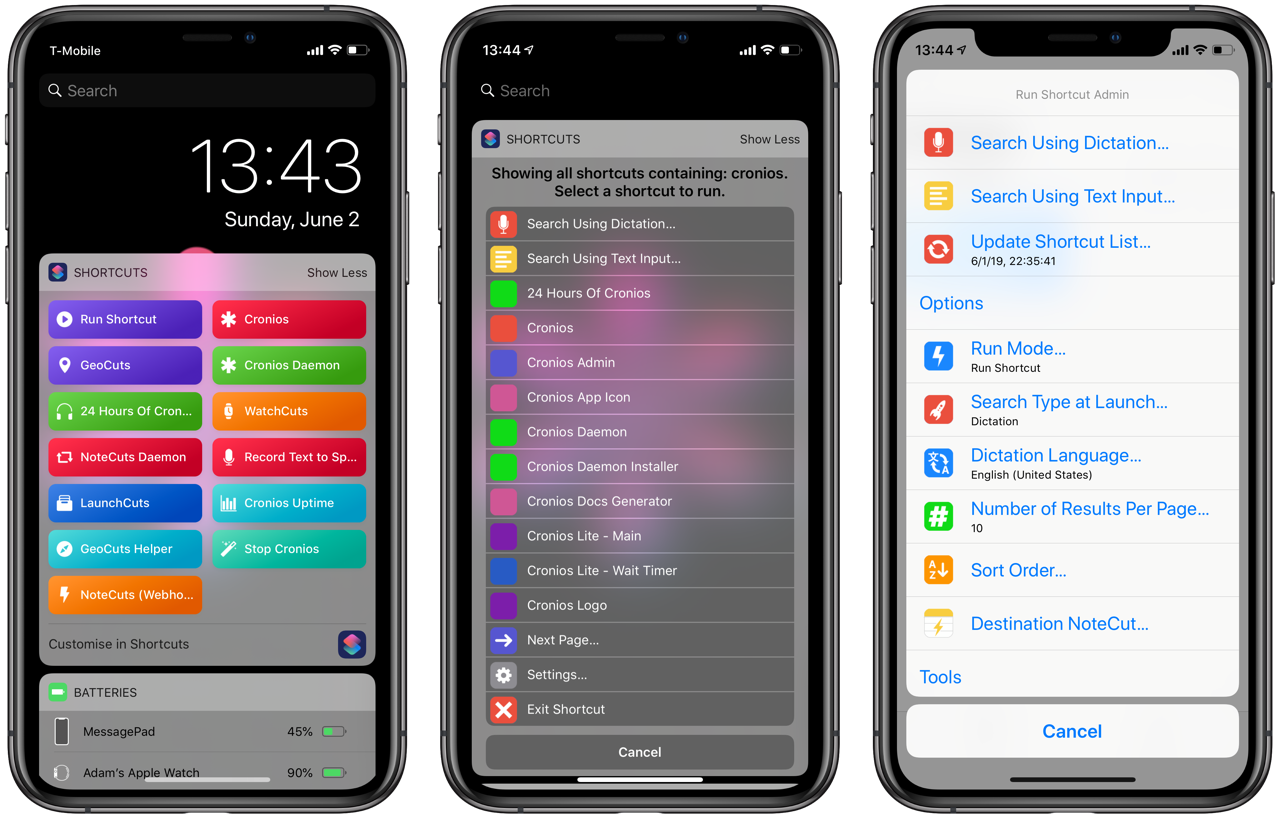 ---
Latest Release Notes
1.0.3 - June 9, 2019, 5:17 p.m.
- Increment version string over 1.0.1-1.0.2 release.
Version history
---
Feedback
Log in or sign up to leave feedback.
@dastefster
I downloaded this yesterday and, for some reason, v1.0.1 was installed instead of the latest release. I tried updating to v1.0.2 from here & via the shortcut's menu, but both links just re-installed v1.0.1.
· 2 years, 3 months ago
@atow
Author
Check it out now. I must not have updated the version string when I uploaded 1.0.2. It's not at 1.0.3.
· 2 years, 3 months ago
@dastefster
Just installed the new version & it worked just fine!
· 2 years, 3 months ago
@dastefster
hello again! I know this is sorta random, but I was wondering what you use to make these menu icons?
· 2 years, 2 months ago
@atow
Author
I make them using Photoshop on the Mac. Many of the icons come from Keynote's Symbol library.
· 2 years, 2 months ago