Autocuts
Automatically run shortcuts in the background as you use your iOS 13 device.
---
Description
Autocuts
Autocuts brings automatic running of shortcuts — with no zero confirmation required — based on time, location, and web activity. A background shortcut manager, Autocuts works intelligently behind the scenes to execute shortcuts automatically while you use your iOS device during the day.
For those who have been wanting Personal Automations in iOS 13 to be a little more, say, automated, Autocuts is for you. Stop confirming and start running your time, location, and web-based shortcuts automatically with Autocuts!
Autocuts Suite
Autocuts is part of the Autocuts Suite set of automation shortcuts for iOS from Adam Tow:
Download Autocuts Suite Installer from RoutineHub.co »
Autocuts: the shortcut manager that runs your shortcuts continually in the background throughout the day.
Autocuts Admin: the shortcut for creating, viewing, and managing your list of background shortcuts.
Location Triggers: shortcut that manages and runs all of your automatic, location-based shortcut triggers.
LimitKit: an event logging and rate limiter for shortcuts. LimitKit allows you to set the run cadence of your shortcuts (e.g. one minute, fifteen minutes, two hours, three weeks, etc.).
Documentation
Screenshots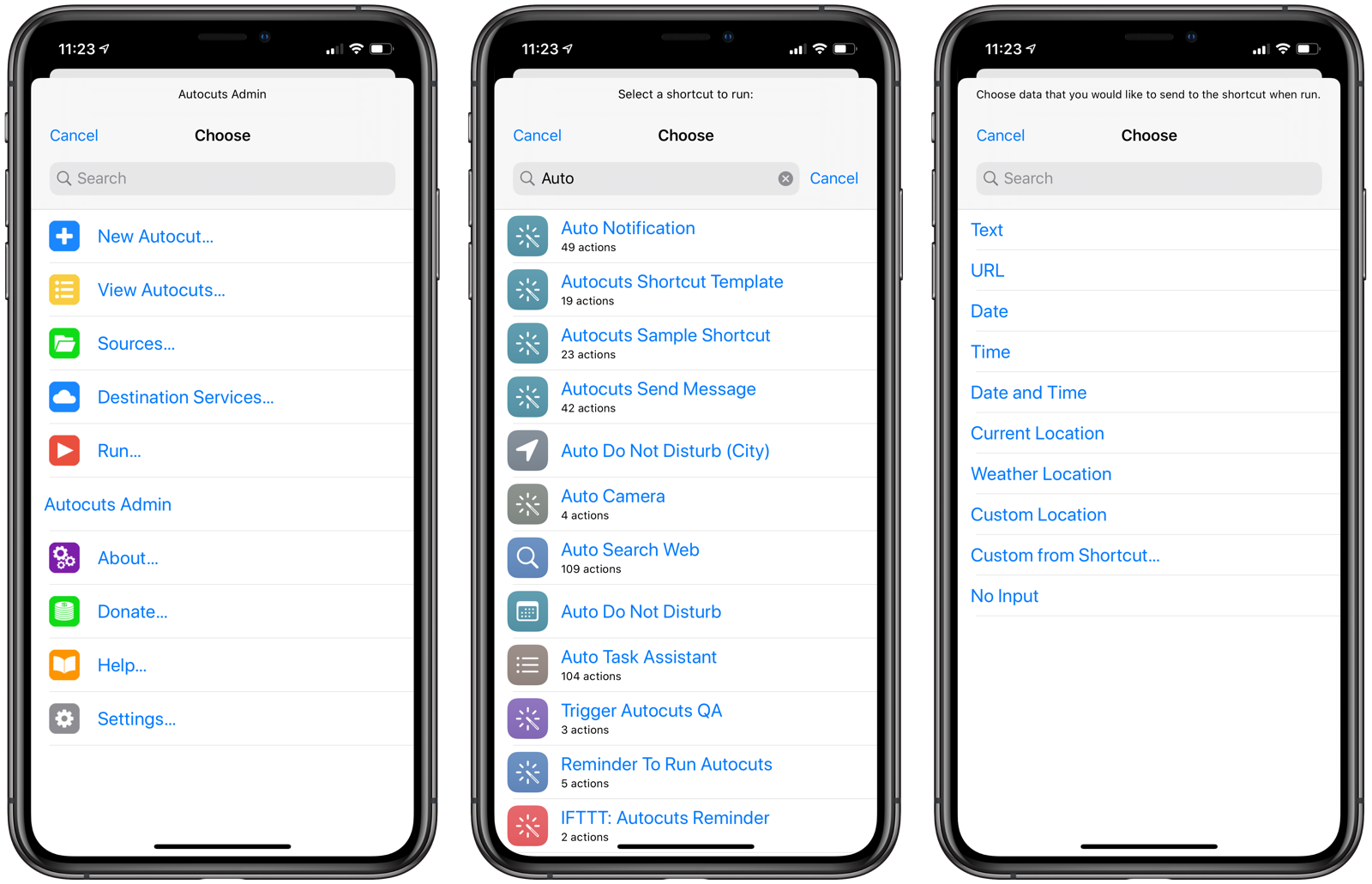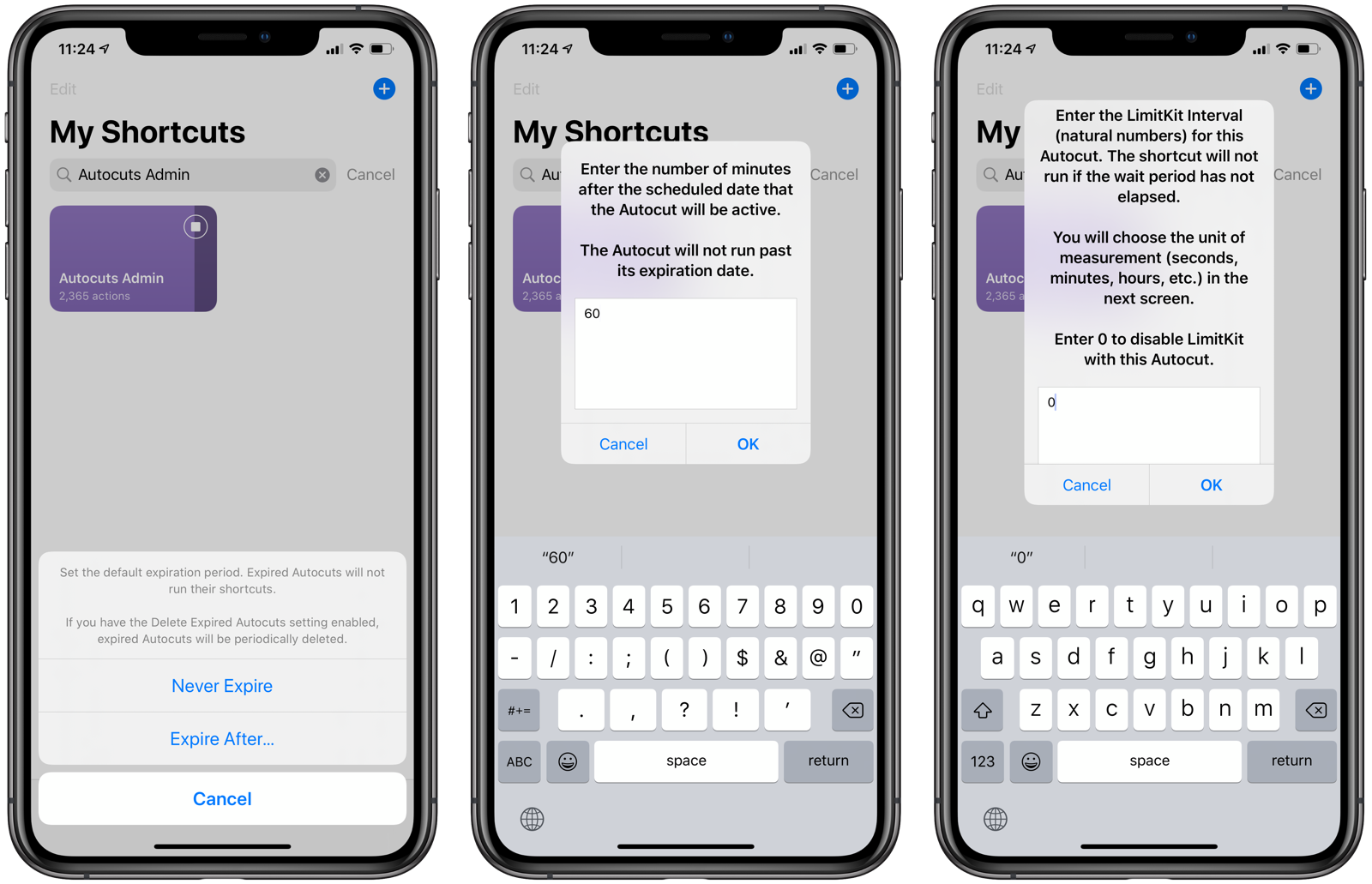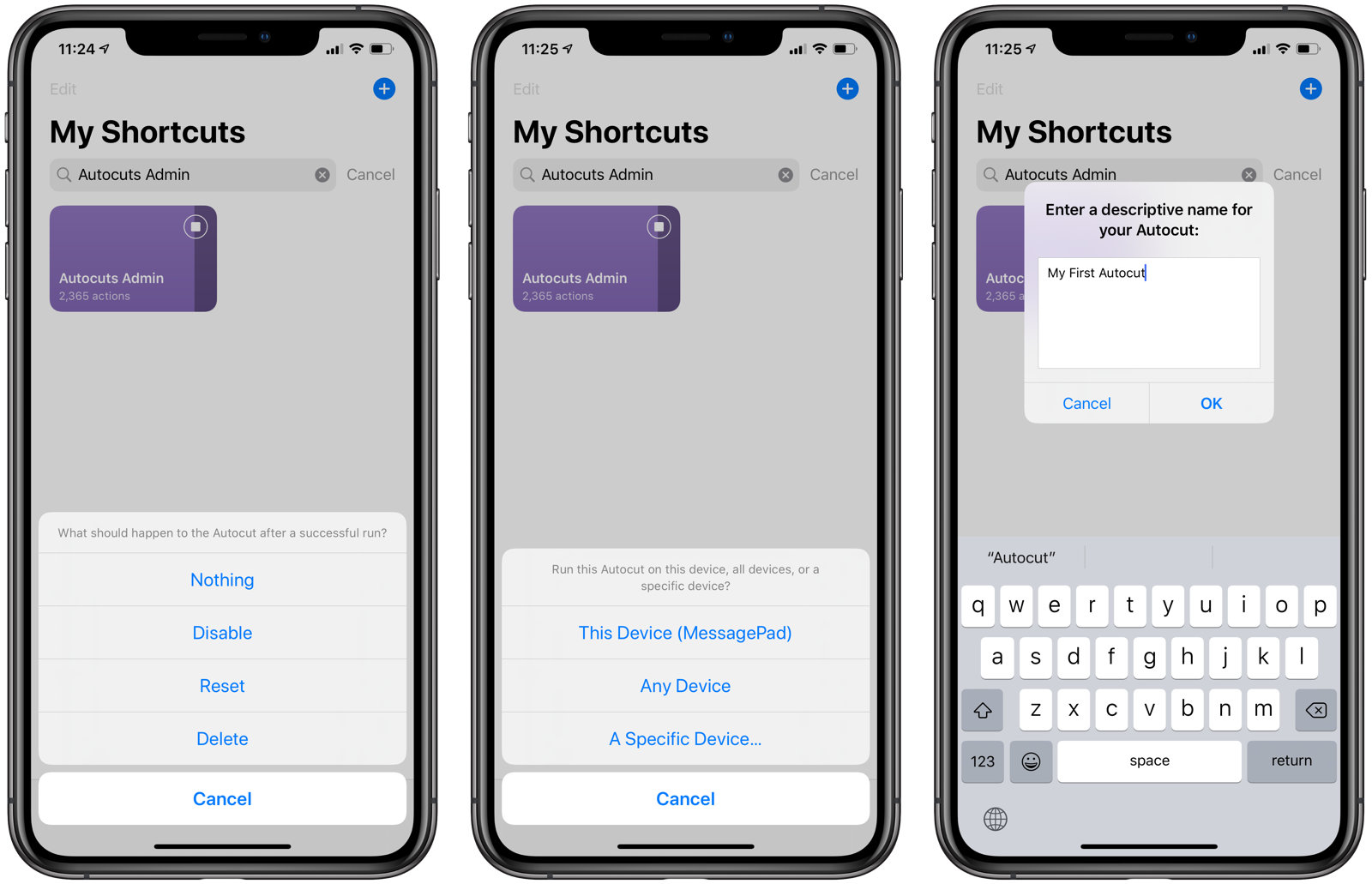 new-autocut-5.png
---
Latest Release Notes
1.1.4 - Nov. 7, 2019, 12:25 a.m.
- fixed bug preventing repeat intervals from being interpreted properly.
Past versions
---
Feedback
Log in or sign up to leave feedback.
@macfreaker
Hello, working now frequently with this shortcut because the shortcut is activated when I open certain apps. But it also opens shortcuts app after a few seconds. For example I open mail app then shortcut runs but after a few seconds mail app switch to shortcuts app. Did I do something wrong ?
· 11 months, 2 weeks ago
@atow
Author
Did you disable Run in Background when creating the Autocut? What is the shortcut that Autocuts is running doing? If it is asking Shortcuts to open, then Shortcuts will open (i.e. Run Shortcut -> Show While Running is enabled).
· 11 months, 2 weeks ago
@macfreaker
Hello, That was it. Disable background was off. Thank you for the support and great shortcuts.
· 11 months, 2 weeks ago
@atow
Author
Be sure to update to version 1.1.0 of both Autocuts and Autocuts Admin. I just released earlier today. Lots of new features.
· 11 months, 2 weeks ago
@Glen361
Hi, just found AutoCuts and have been playing with trying to figure it all out along with looking through App Framework. The question I have, if you don't mind, is how do you create/edit such complex Shortcuts in the small editing screen that the Shortcuts App provides? I didn't know where else to contact you regarding this, thus posting the question here. Thank you, Glen
· 4 months ago
@atow
Author
I have an iPad Pro which I can rotate into portrait orientation which makes editing easy. Even on the iPhone, I can hold the scroll indicator and quickly jump to a section. I remember where certain sections of my code is located. Using App Framework is very useful since blocks of code related to a particular task (i.e. Application, Autocut, Settings, etc.) are all grouped together. Then, I look for the Function comment block, find my function, and edit.
· 4 months ago