TV Shows Countdown
Countdown to your next TV Show
---
Description
Waiting for your favorite TV shows can be a pain, so this Shortcut was created to alleviate some of that pain off you
FEATURES
TV Shows Countdown features
Dark Mode support
Beautiful and clean interface
A real-time countdown adapted from Advanced Countdown
Episode descriptions / synopses and Airdates
Promos / Trailers from Television Promos
Reminds you when an episode airdates
And much more…
---
Set up
Press 'Settings'
Press 'Add'
Search for your favorite upcoming TV Shows
Select the correct TV show
Rerun the Shortcut and press 'Start'
Repeat as many times as necessary
---
Startup Page
After you have finished setting up your Watchlist, all you must simply do is press 'Start'. You will be presented with a beautiful interface of your Watchlist and will be asked to select a TV show from it.
---
Themes
After you select the TV show from your watchlist the shortcut will open up a beautiful HTML document with Light/Dark mode support. It will present the tv show's poster along with its next episode's name, number, description, and countdown.
Light Mode
Dark Mode
---
Calendar Integration
This Shortcut does add calendar events for when an episode airdates.
If you would like to have it automated then I would suggest creating an account with EpisoDate.
Instructions to add your TV Shows to your Calendar can be found here, Link.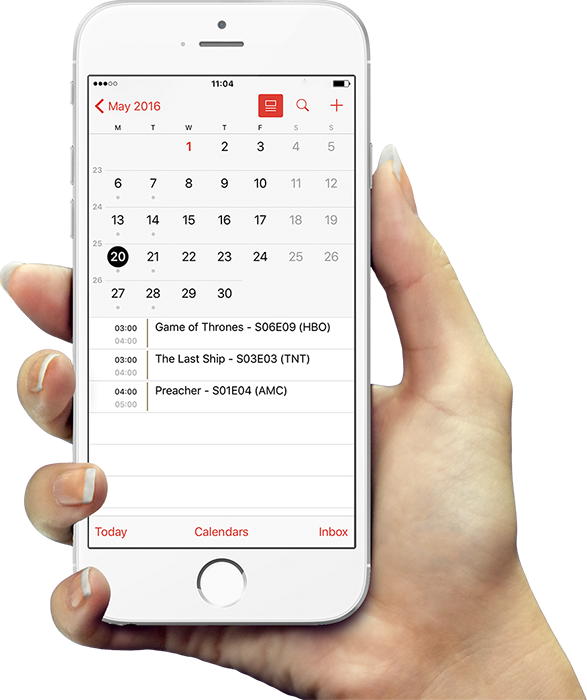 ---
Settings
Watchlist Settings
View [View your Watchlist]

Add [Add another tv show to your Watchlist]

Remove [Remove a tv show from your Watchlist]

Edit [Change the Posters, Backdrops, or Thumbnails of your shows]

Reset [Reset your entire Watchlist]
Shortcut Settings
---
Supports
---
Credits
Icons - Apple
---
---
Latest Release Notes
5.4 - April 8, 2020, 4:13 p.m.
Version 5.4 Release Notes

- Navigational buttons turn to a nice shade of blue when pressed so you will know if you pressed them or not
- All episodes include the name in parenthesis with smaller font size, aqua color, and italicized
- In 'All Episodes' when you press one of the episode links in the TOC it will now have you a little space so the episode name won't be covered by the season banner
- Calendar events instead of Reminders for new episodes
- Made the episode summaries in the 'All Episodes' page a bit smaller

- Total Actions: #451
- Created on iOS 13.4
- Released at 2020-04-08
Version history
---
Feedback
Log in or sign up to leave feedback.
@dastefster
I added 2 shows to my watchlist and noticed a few discrepancies between the info displayed in the shortcut & what's on the website. The air times for both shows were incorrect (1–2hrs later than my time zone) and one of them also had the wrong upcoming episode number.
· 3 years, 11 months ago
@AShortcuts
Member
Author
I will try to fix this. All I need to know is which tv shows are showing the error and what time zone you are in
· 3 years, 11 months ago
@dastefster
the shows are: Riverdale & Atypical. time zone: CDT
· 3 years, 11 months ago
@AShortcuts
Member
Author
I noticed that Atypical has a unknow next airdate on EpisoDate which explains why it doesn't show it. As for the airtime (1-2 hr difference) bug, an update has been released to fix it
· 3 years, 11 months ago
@AShortcuts
Member
Author
This issue may have been resolved a few weeks ago. Can you download the latest version and try again.
· 3 years, 8 months ago
@dastefster
just downloaded the current version (5.2) and the info seems to be correct now! For the couple shows I tested, at least.
· 3 years, 8 months ago