Listen Launcher Admin
Configuration for Listen Launcher - a voice-controlled, natural language chatbot
---
Description
This shortcut requires the Listen Launcher shortcut, available here.
Listen Launcher is a shortcut launcher that is designed with the Siri interface in mind. Of course, Siri does a pretty great job at launching shortcuts already. But there are a few things we wish Siri would do better.
Alternative launch phrases
Pass data to shortcuts
Run multiple shortcuts from a single voice command
---
Here is a demo of Listen Launcher launching two different shortcuts with a variety of phrases.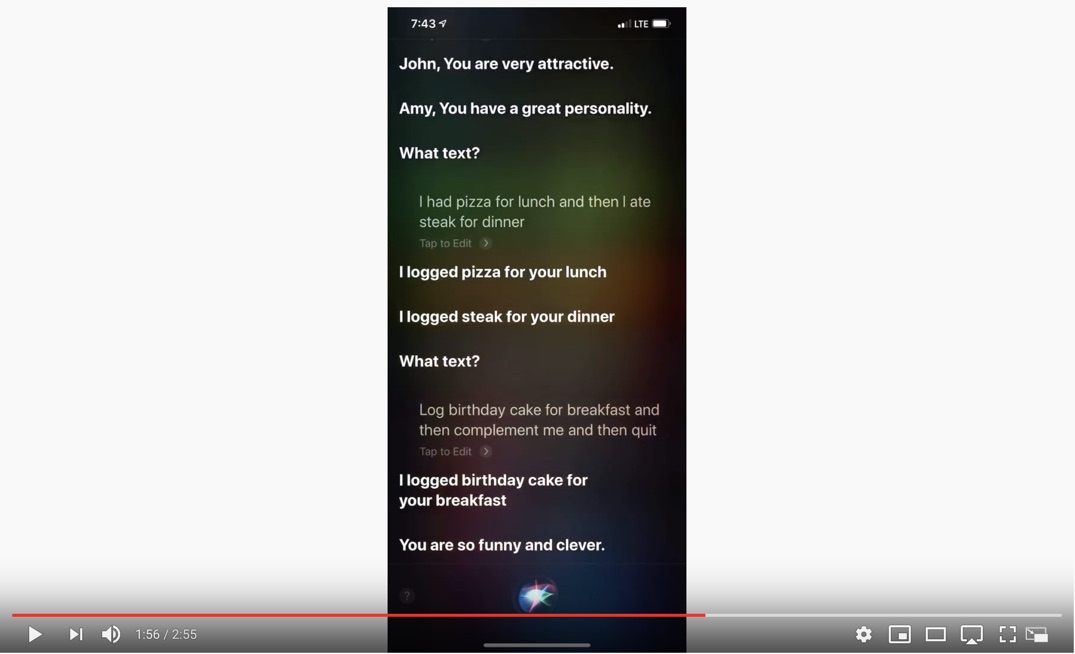 Note that one of the sample shortcuts -- Compliment -- can be downloaded on RoutineHub.
Listen Launcher can do all of this and more because it is built on the nlp-compromise Javascript library. This is how Listen Launcher knows about people, places, organizations, names, dates, values and dozens of other things.
Listen Launcher consists of two shortcuts:
Listen
Listen Launcher Admin
Listen does the listening and launching work, while Listen Launcher Admin is for configuration.
---
Once the shortcuts are installed, say: "Hey Siri, listen" to run the launcher.
Out of the box, Listen Launcher knows variations of phrases like:
The names of your shortcuts
"in shortcuts" -> Launch in the Shortcuts app
"and then" -> Use a separator phrase for multiple commands
"Quit" -> Exit the chatbot
"show voice patterns" -> View your saved patterns
"create voice pattern" -> Add a new voice pattern
And if you forget the names of your shortcuts, don't worry. Listen Launcher will make suggestions based on your guess.
Additional documentation is available in the two shortcuts.
A third shortcut -- "Compliment" -- is available as an example to play with and launch. Compliment comes with sample voice patterns that it can install.
---
Screens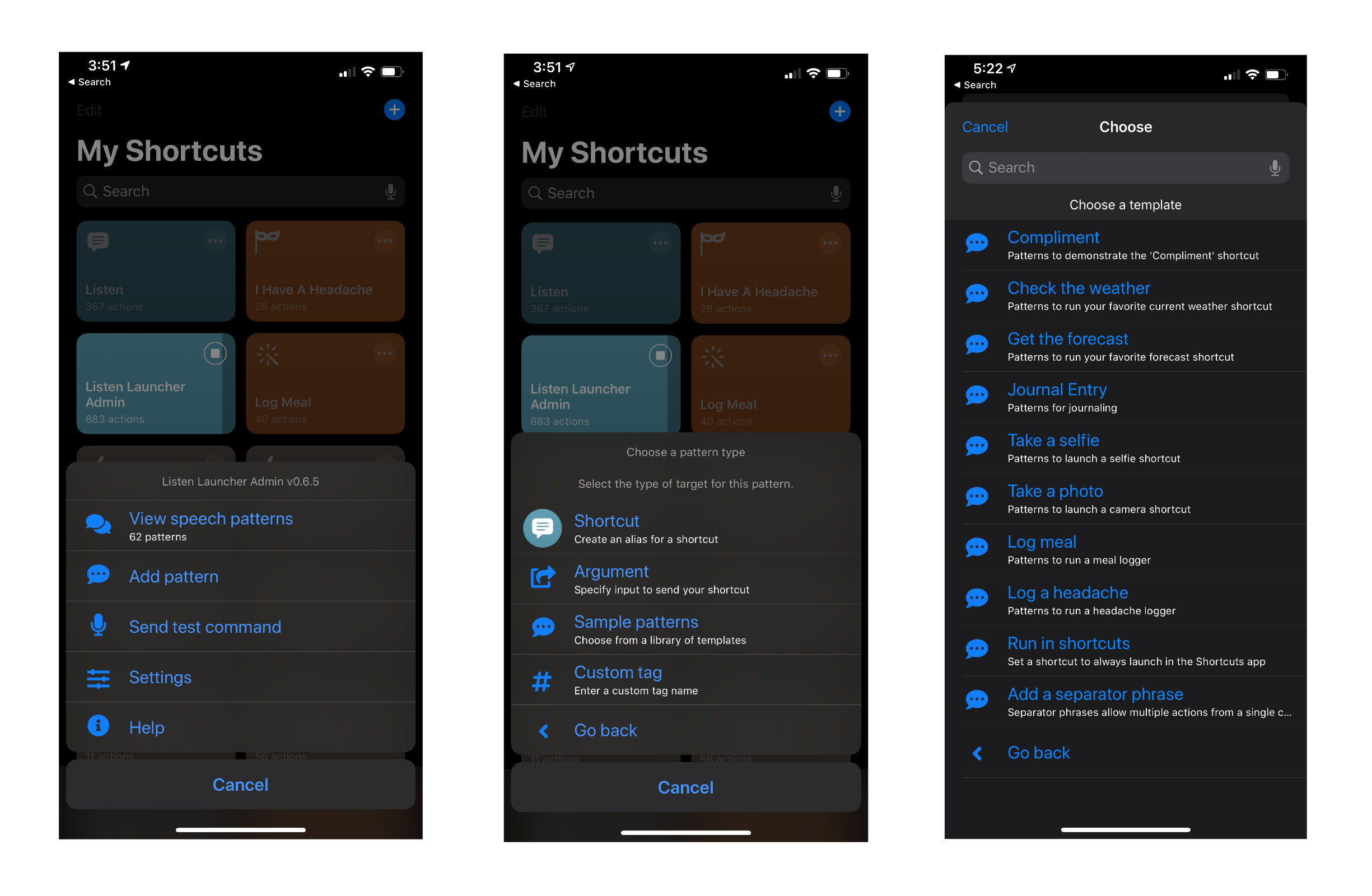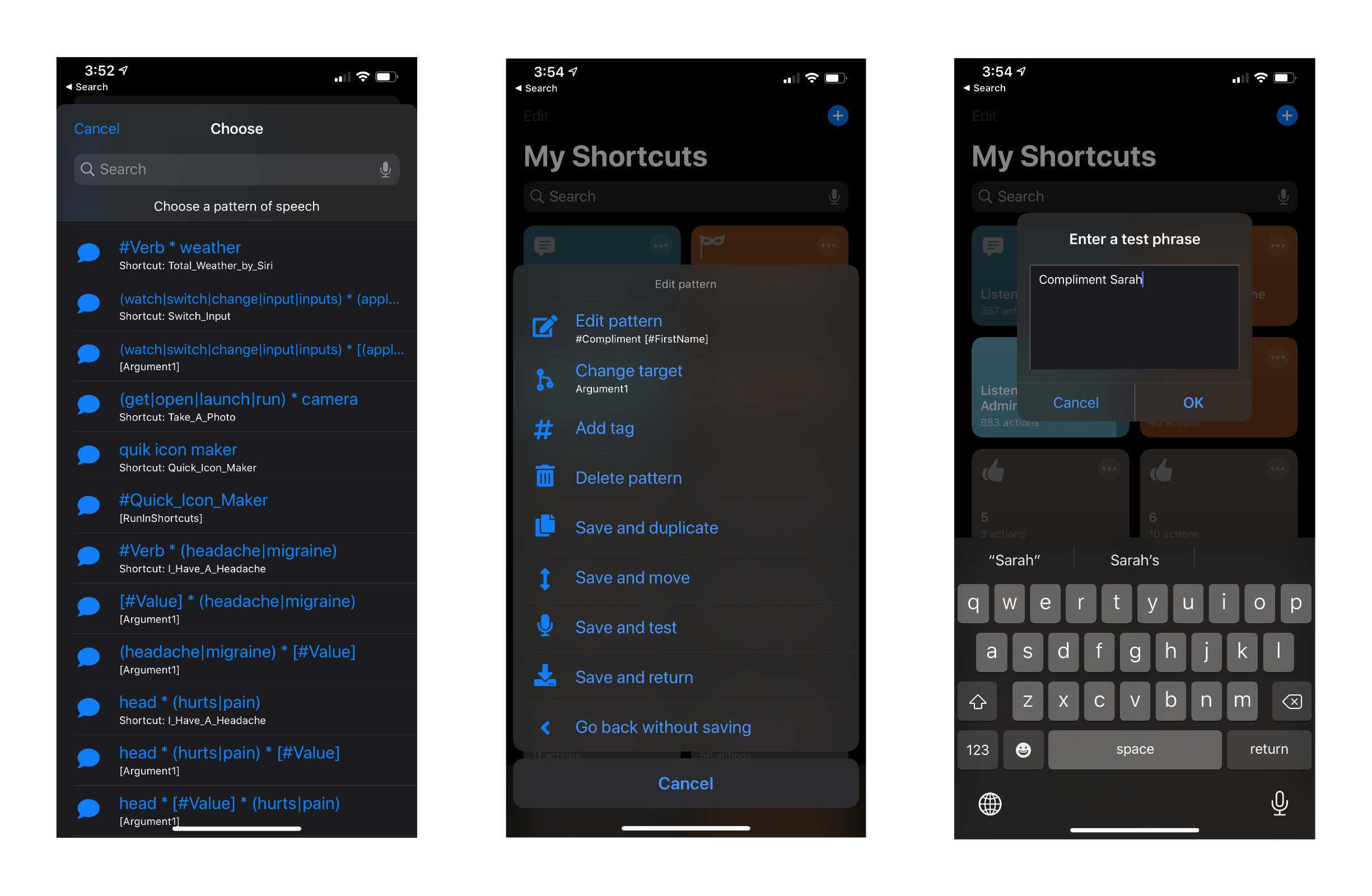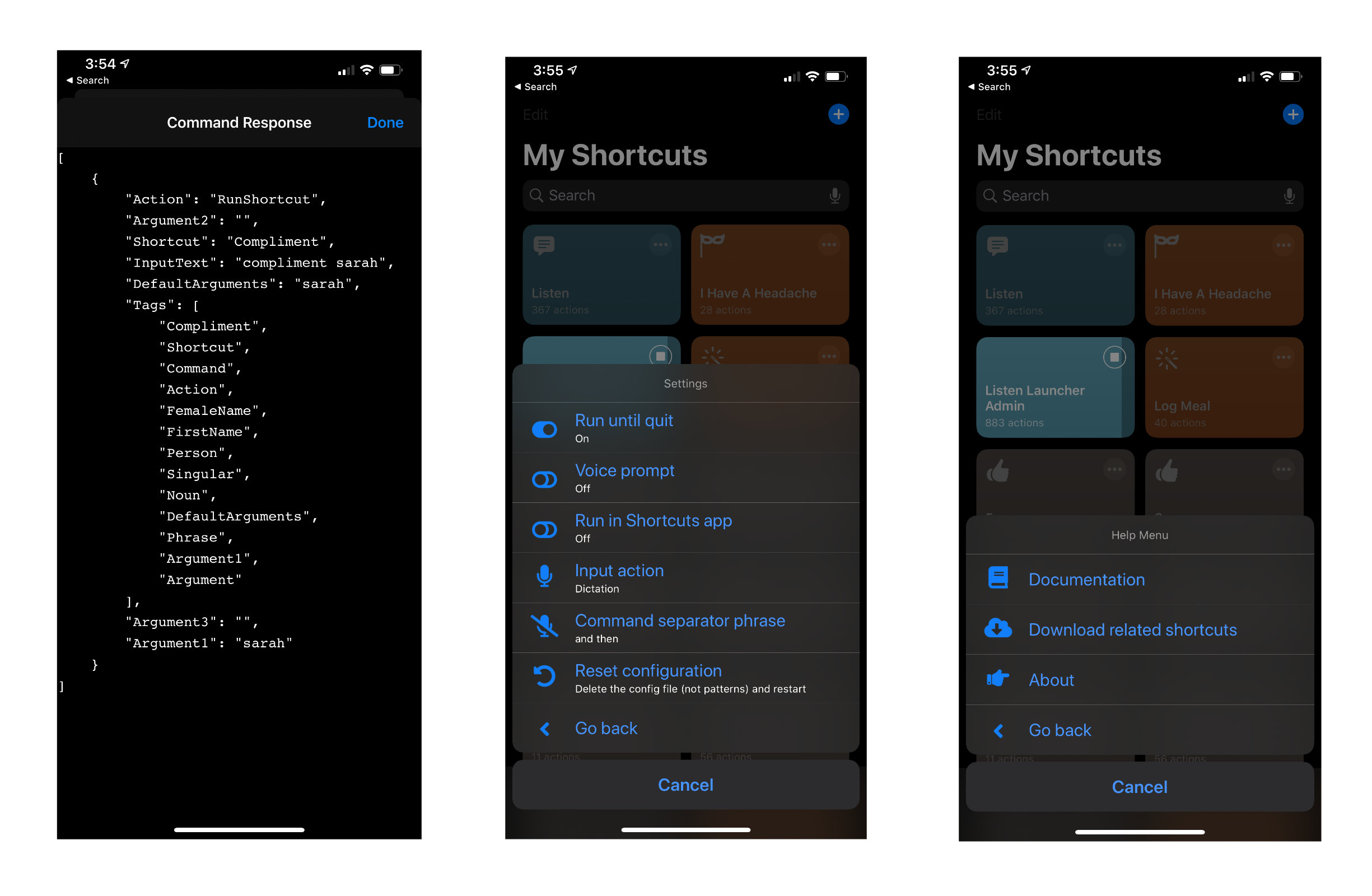 ---
Latest Release Notes
0.7.3 - March 17, 2021, 1:30 a.m.
*Fixed*
Workaround for possible error in updating code.
Version history
---
Feedback
Log in or sign up to leave feedback.
@dastefster
when adding match syntax via the pattern editor, x2 of the selected qualifier is added to the pattern—e.g., selecting 'Greedy' from the 'Add Tag' menu appends "Example+ Example+" to the pattern being edited. Seems as though only one instance of "Example+" should be added, or am I missing something?
· 2 years, 11 months ago
@veredictum
Member
Author
You are correct. I'll check it out.
· 2 years, 11 months ago
@veredictum
Member
Author
I verified this error. In fact, it added "Example+" 3 times to my pattern in my test. And I couldn't edit it out until I quit Listen Launcher Admin and re-started it. It may take 24 hours to roll out a fix. Thanks for your patience.
· 2 years, 11 months ago
@veredictum
Member
Author
Just pushed out a fix. Great find on the bug. Thanks a lot!
· 2 years, 11 months ago
@dastefster
No problem. I just installed the new version and it seems to have solved the issue! Thanks for the update.
· 2 years, 11 months ago
@Bayrodraheaxe
Hello! I have an error 9807((
· 1 year, 8 months ago
@veredictum
Member
Author
I just published an update that fixed it for me. Let me know if it fixes it for you.
· 1 year, 8 months ago
@Bayrodraheaxe
Send test command - ListenTest menu - still error 9807
· 1 year, 8 months ago