NavigateME
Quick and Easy navigate to address
---
Description
The fastest and easiest way to build a route to the destination. Support many navigation apps, could get address from an imported Share, convenient menu with manual input, calendar or contact selection and built-in favorites.
Features
Share from anywhere to NavigateME shortcut to build the route:
Auto address and coordinates recognition
Share to shortcut from Contact, URL, Browser, Maps, Text
Pick Contact from phonebook or Calendar event
Use clipboard, voice recognition or type text
Use your own Favorites list (can edit, add, add current location, add contact or delete)
Use built-in Menu if run within shared imported data
Fast route to 🏠Home and 🏢Work
📋 From Clipboard
🎙 Voice dictation
⌨️ Manual entered text
📆 Upcoming Calendar events
☎️ Contacts with addresses
Supported apps and modes
Waze
Google Maps
Apple Maps
Here WEGO
Sygic

Maps.me

🚘 Drive

🚶‍♂️ Walk
🚇 Public transport
Extra features
Select from many addresses if more than 1 found
Changeable settings
English, Russian, Ukrainian languages
Online update of the shortcut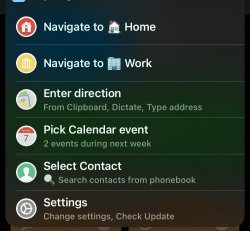 ---
Latest Release Notes
1.8 - May 31, 2022, 6:52 p.m.
~ A lot of bug fixes. Including not operation well coordinates recognition
~ Clarence and optimization
- Deleted Favorites section
+ VCard menu with icons
Version history
---