Bus Arrival Time Checker for Singapore
Tells you how many more minutes you have to wait for the bus at your bus stop.
---
Description
Probably the most advanced bus arrival time shortcut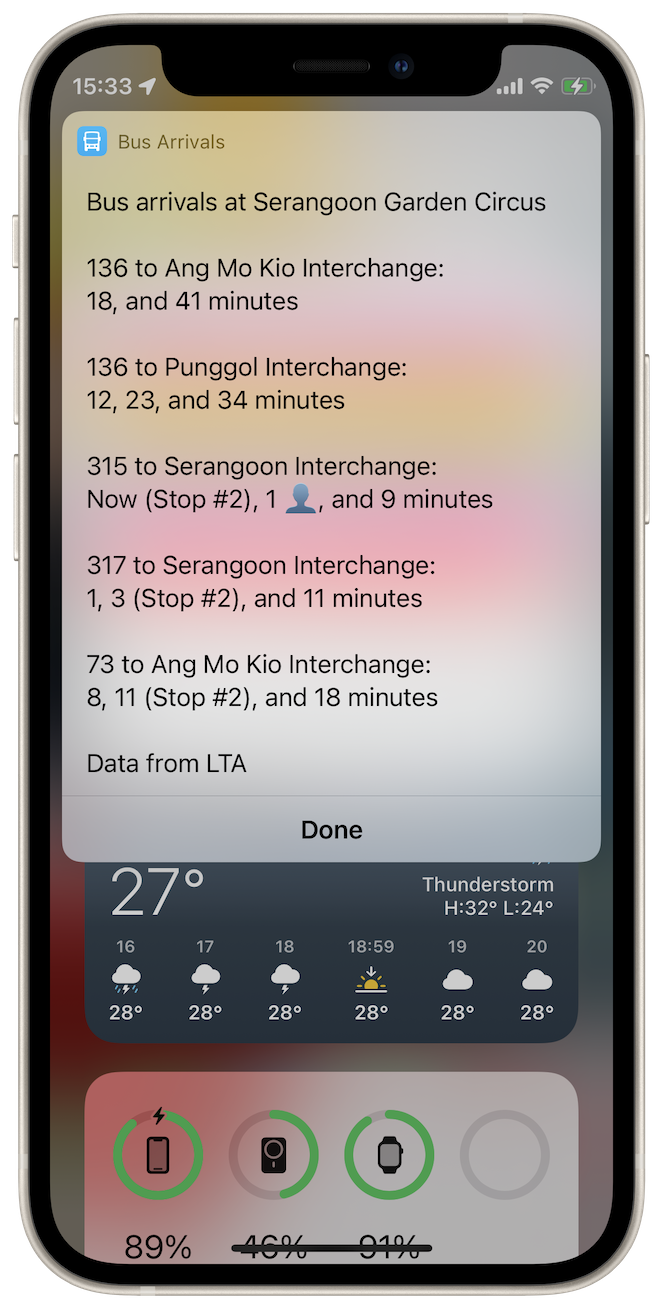 Features
This shortcut lets you get bus arrival times at a bus stop, and it finds bus stops near you based on your location. And it's snappy, so you don't have to wait for long for the shortcut to figure out the bus stops for you.
User Friendly and informative
The shortcut tells you exactly what you need, that is, when the bus will come, and whether you should take that, or wait for the next one, as it warns you if the bus is crowded or wheelchair-inaccessible. And getting to this information is easier than ever, with good Siri support. It even has a mode where the result is displayed in a large font so it is easy to read even when there is a lot of buses.
Easy set up
The shortcut is preset to work beautifully even without setting up anything. Unlike other shortcuts, Bus arrivals dosen't need you to preset a few bus stops that it is able to get arrival information for. Instead, it allows you to both preset, as well as search for bus stops near you, so you can get bus arrival information whereever you are. And you can still customise how the shortcut runs, giving you greater control on the shortcut and making it work for you.
Powerful
Choose between a basic or detailed mode, and how to search for a bus stop: preset bus stop codes, entering a bus stop code every time or by location. And the shortcut integrates with Apple Maps too: share to the shortcut a location in Singapore and it searches the area for bus stops, whuch you can then get bus arrival information for.
Some features require an LTA API key, which you can get very easily at mytransport.sg
This shortcut requires an internet connection, and iOS 15/watchOS 8/macOS 12 or later.
To be able to find bus stops near you, this shortcut also requires access to your location.
---
Visit the shortcut documentation and installation guide to learn more.
---
Latest Release Notes
13.13 - Oct. 30, 2021, 6:30 p.m.
⚠︎ THIS SHORTCUT REQUIRES iOS 15, watchOS 8 or macOS Monterey.

What's new in Release 13.1:
→ Interacting with Bus Arrivals through Siri is now more natural. For example, Siri no longer reads long strings of numbers as "xx thousand x hundred..."
→ Removed &A (using too many actions)
→ &P now directly loads the bus arrival information for that stop. Enter '0' to load the options menu.
→ Bug fixes

What's new in Release 13:
→ The shortcut now caches bus stop information so the nearby bus stop finder is much quicker
→ New &g setting to disable caching; &f still disables any file saving
→ The shortcut now returns to the main bus stop selection menu after you dismiss the bus arrival information sheet.
→ New updater does not tell you about what's new in the next release every time you run the shortcut.
Version history
---