Daily Dashboard
Sleep, motion, heart, calendar, workouts and productivity in one chart widget
---
Description
Your daily life data — together in one chart.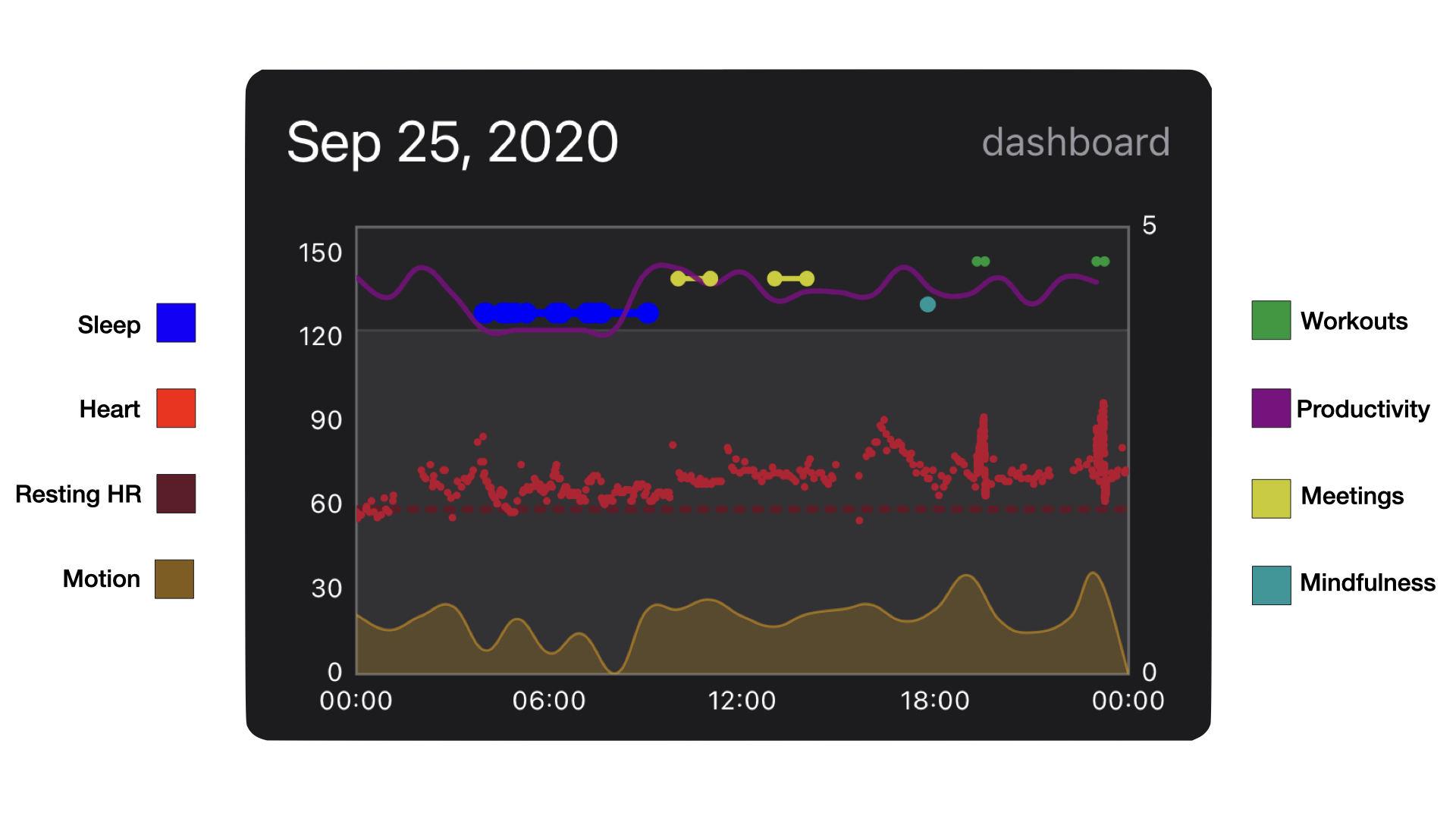 Daily Dashboard uses the Charty app to combine your daily data into one chart, which can be assigned to a widget.
Instructions
Install the Daily Dashboard shortcut.
Install Charty.
Install Toolbox Pro.
Join RescueTime.
Get a RescueTime API key.
Run the Daily Dashboard shortcut.
Note: Toolbox Pro and RescueTime are optional but recommended.

Available series
Motion (active energy)
Heart rate
Resting heart rate
Sleep
Calendar events
Workouts (via Toolbox Pro)
Productivity (via RescueTime)
Mindfulness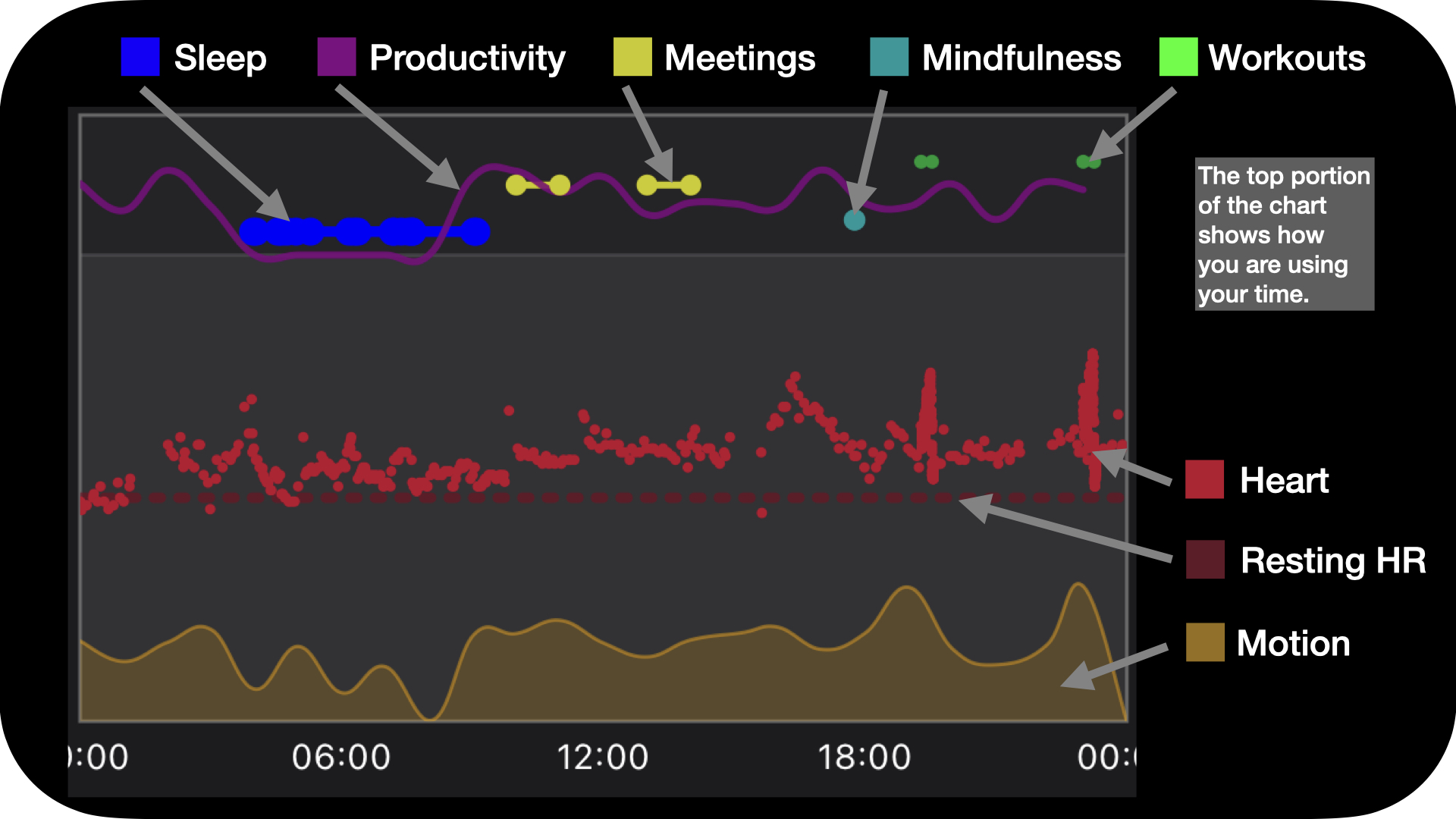 Advantages
Track your day as it progresses.
View charts in a widget.
Share reports as image, text or PDF.
Perfect for fitness trackers and life loggers.
Great for journaling.
Disadvantages
It can take 15-30 seconds to update the chart.
Charty and Toolbox Pro must be unlocked (not free).
RescueTime tracks Mac/PC usage but does not track iOS devices well.
Requirements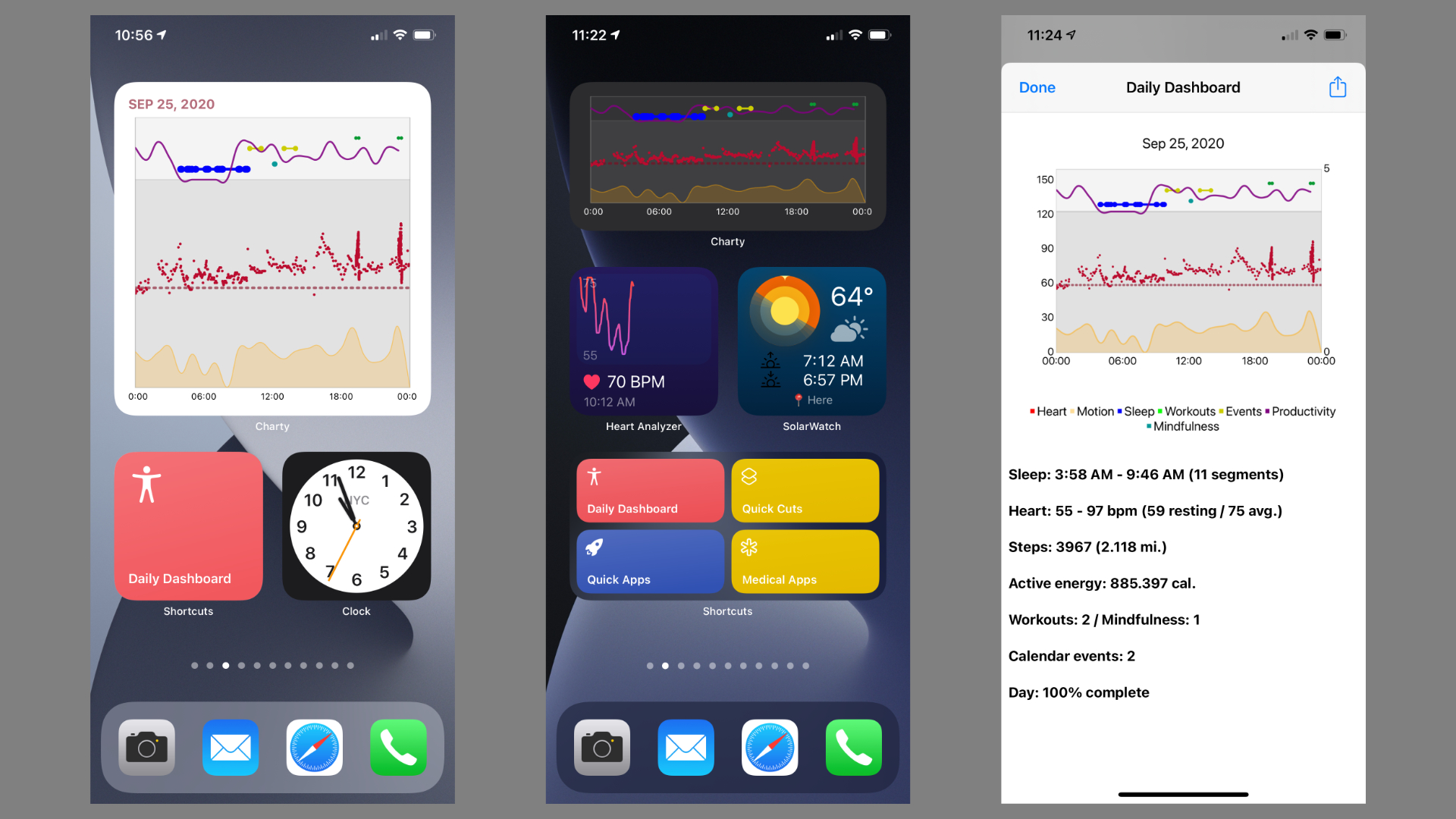 Watch a demo...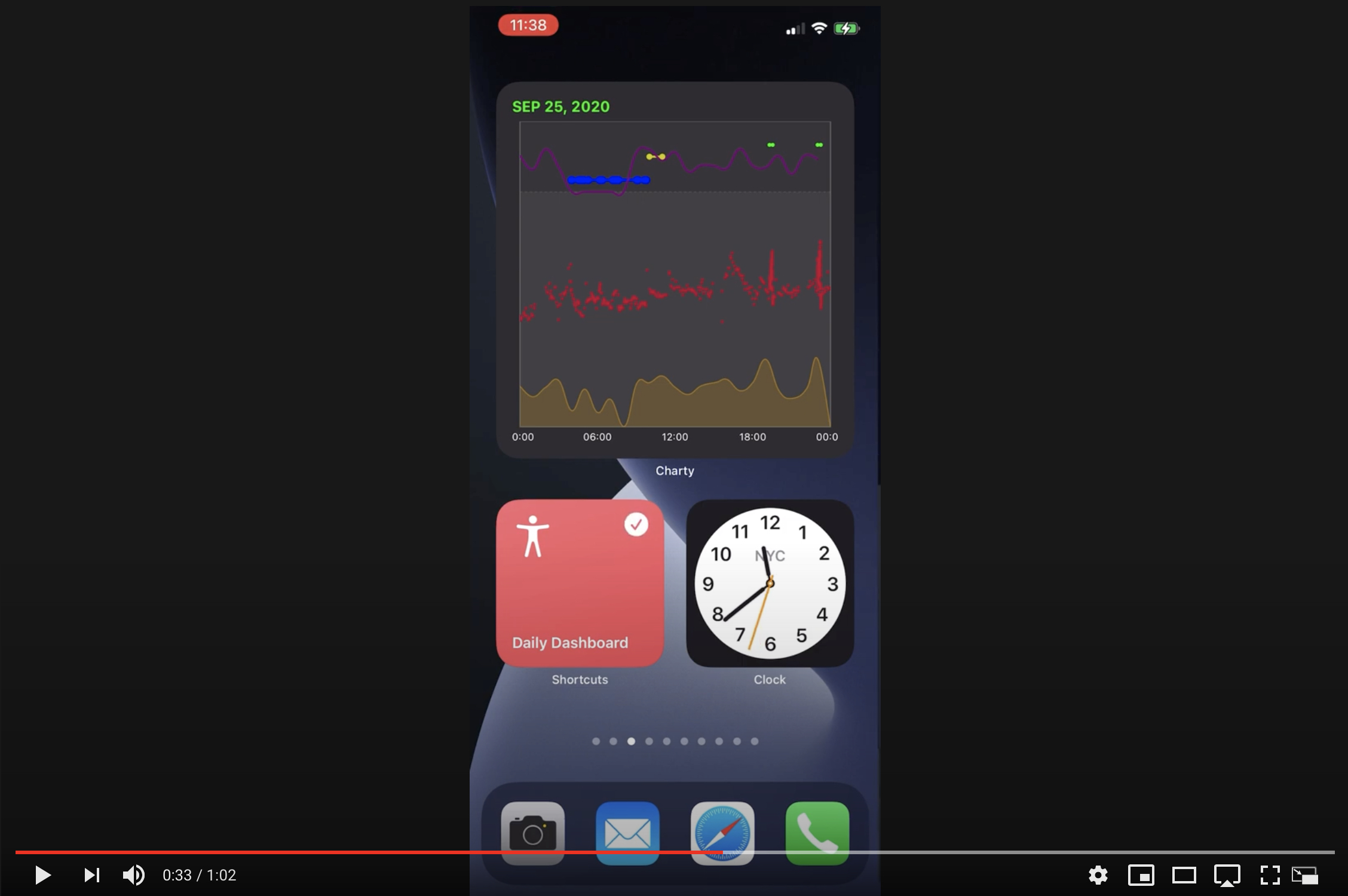 Permissions
The following permissions are required.
iCloud Drive
Run Shortcuts
View Shortcuts
Charty
Health: Steps
Health: Distance
Health: Heart rate
Health: Resting heart rate
Health: Sleep
Health: Active energy
Health: Mindfulness
Calendar
Toolbox Pro
Notifications
RescueTime website
RoutineHub website
More information
---
Latest Release Notes
0.1.14 - March 24, 2021, 2:56 p.m.
*Fixed*
- New link to workaround shortcut not found error condition
Version history
---
Feedback
Log in or sign up to leave feedback.
@tbb
Hi veredictum! I was wondering if I could add your shortcut to mine (https://routinehub.co/shortcut/6726) because this shortcut only has 17 downloads! What I will do: Grab the routinehub link. Grab the image. Get the creator's name (veredictum) Put it all inside my shortcut to promote your shortcut!
· 1 year, 9 months ago
@veredictum
Member
Author
Sure. Thanks!
· 1 year, 9 months ago
@tbb
I added your shortcut to https://routinehub.co/shortcut/6726 Why don't you have a look at it?
· 1 year, 9 months ago
@yannickhalm
Love it! Thank you for making this. Greeting from Cologne
· 1 year, 6 months ago
@yannickhalm
I have one question: Currently I have a trigger that this dashboard is created automatically in the background and I turned off all notifications. (By automating the shortcut everytime I open 2 specific apps). Is there a way to specify the selected calendars? I have one calendar which is called "TEMPLATE" which contains the basic daily routines and now I want just to select meetings I attend. Is this possible?
· 1 year, 6 months ago
@veredictum
Member
Author
Yes, this is possible. Edit the shortcut. Search for a comment action with the text "Calendar event series". You can find it a little over halfway into the shortcut. Find the Calendar action beneath that comment. Add a filter to the calendar action with your condition. In this case, you would add a filter like "Calendar is TEMPLATE" or "Calendar is not TEMPLATE"
· 1 year, 6 months ago
@yannickhalm
Hey veredictum! This worked perfectly for me! Thank you so much!
· 1 year, 6 months ago