Gewicht & BMI
Save weight and bmi in Health, show difference
---
Description
—Shows your last saved weight in Health, then you enter the current weight. —It calculates the difference, the metabolic rate and displays it. —Get your stored height from Health, calculate your current BMI, and enter weight and BMI in Health. —Records all weight and BMI data in a csv file per year as a backup / export for use in other apps.
—Zeigt dein zuletzt in Health gespeichertes Gewicht, dann gibst du das aktuelle Gewicht ein. —Es errechnet die Differenz, den Grundumsatz und zeigt dies an. —Holt sich deine hinterlegte Körpergröße aus Health, errechnet deinen aktuellen BMI, trägt Gewicht und BMI in Health ein. —Erfasst alle Gewichts- und BMI Daten in einer csv-Datei pro Jahr als Backup/Export zur Verwendung in anderen Apps.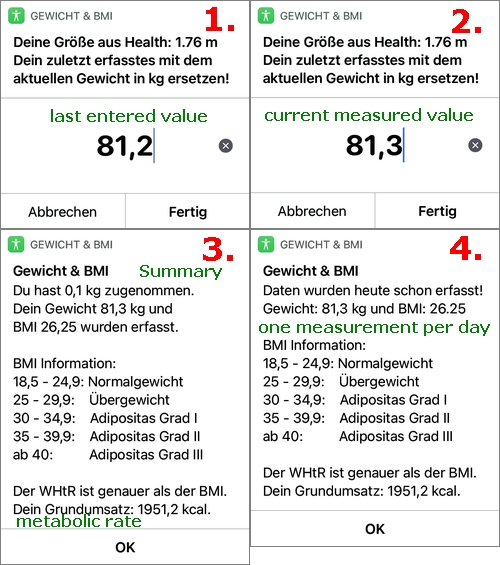 ---
Latest Release Notes
2.6 - March 22, 2021, 8:30 a.m.
2.6 show metabolic rate
Version history
---